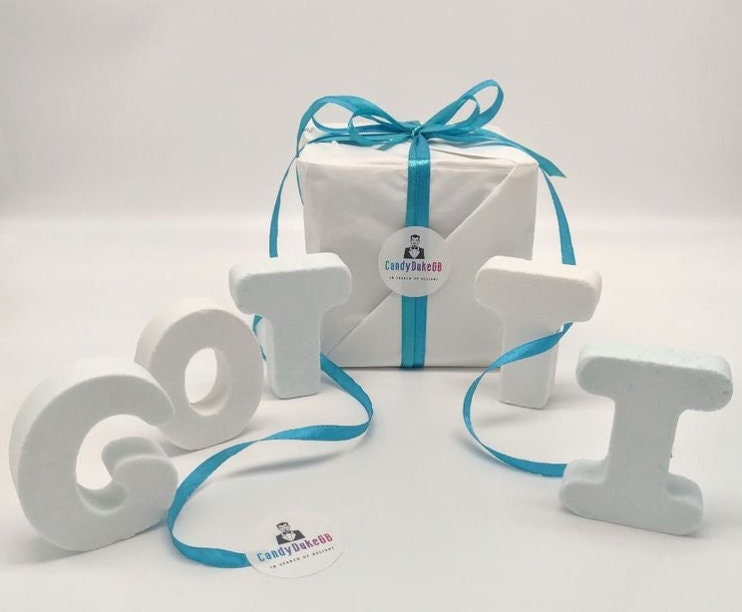 Intrigue You Mystery Box Freeze Dried Sweets UK | Birthday Present | Gift | Candy Box UK
$14.41
Details
Delicious Seriousssss Mysterioussss Freeze-Dried Collection!
Who Knows What In Your Box???

CandyDukeGB 'Intrigue You' Mystery Parcel will save you more than 15% comparing the price if you will buy freeze-dried candy separately. All our candies are made to order. Most take 24-48 hours to ship. If you ever need an order sooner or later please reach out to us.
Packaged in a light-resistant, completely resealable with Custom Logo Mylar bag
Every Type of Mystery Parcel will include Bestsellers + New Candy
Small Parcel - at least 3 standard-sized packets of different candies.
Medium Parcel - at least 4 standard-sized packets of different candies.
Large Parcel - at least 5 standard-sized packets of different candies.
XL Parcel - at least 7 standard-sized packets of different candies.
XXL Parcel - at least 9 standard-sized packets of different candies.
If you have any special requirements, please send us a message.

We have put the delicious freeze-dried twist on the iconic candy collection. This new flavor is sure to be a firm favorite! All freeze-dried creations are Crunchy. Some of them will have a chocolate coating, some of them are dipped with sour crystals, some of them............

Present something special to someone special, with these enticing indulgent Freeze-Dried Candy collections - whether it's a big occasion, or simply just because.

We hope you love it! Love it? Share Your Happy Experiences!



Our group https://www.facebook.com/groups/1314938415608360

We will be forever grateful. Thank you in advance for helping us GROW!


Storage Instruction

According to Freeze-Dried Manufacture Equipment for freeze-dried candies, humidity is the greatest enemy! Please, keep your candy as dry as possible! Make sure that the Mylar bag is sealed tight when you're not enjoying it, somewhere in a cool place, out of direct sunlight. Experienced customers advised the freezer as a great place to keep freeze-dried candy crispy and delightful.

It Is A Great Honor To Meet You All!
CandyDukeGB Is An Enthusiastic Family Team And We Are Here To Sell Delightful And Charming Candy And Healthy Snacks, That Would Transport You Back To Those Happy Carefree Days Of Your Childhood. At CandyDukeGB All Of Our Freeze-Dried Creations Have Been Made With Love To Ensure These Sweets Brings Light Happy Memories! At CandyDukeGB, we BELIEVE that candies are meant to be simply ENJOYED! The candies should feel us up with DELIGHTS. They should be easy-going. They should be handcrafted and loved.

We're A Team Who Turned Their Love For Candy And Making Gifts Into A Small Business. Our Freeze-Dried Creations Will Give You A New Perspective On Your Regular Candy Taste Experience. Small Example: Freeze-Drying Transforms Chewy Into Crispy Giving Your Favorite Candies A Completely New And Unique Experience! We Prepare Our Freeze-Dried Candy And Healthy Snacks Using All Food Safety Precautions.

We Do Love Candy, But We Also Love Our Planet. That's Why We Do Our Best To Be As Sustainable As Possible. We Reuse Shipping boxes, We Pack Our Products With Recycled Packing Materials. Now Our Goal Is To Work Toward On Getting and Using Only Biodegradable Mylar Bags.

We Are Large Enough To Handle. It Means If You Would Like An Order Larger Than What Is Available In Our CandyDukeGB Etsy Shop Please Simply Get In Touch With Our Store And We Will Be More Than Happy To Help You With Your Specific Requirements. We Supply Candies For Any Special Occasions: Birthdays, Anniversaries, Weddings, Graduations, Events, Or Any Other Special Moments.

If you have any? please don't hesitate to reach out to us. We are more than happy to help you!

We Hope You Enjoy Eating Them As Much As We Enjoy Making Them!
Thank You So Much For Your Time, Thank You For Being An Amazing Customer, And Thank You For Supporting CandyDukeGB.

Love and Light. Together, making our life Special and Delightful
Made in Great Britain with great respect for you.

P.S
New Freeze-Dried Candy Are Released Regularly! Please Feel Free To Follow CandyDuke on Facebook, Instagram And TikTok To See What We Are Up To...
Thought there would be more to these than just candy presented with a texture the companies didn't go for a very good reason not bad but far from great.. for niche selection only.
Fast shipping! Oh my, this is a present for my brother, but took a look of the contents and had to steal a bag for MEEEE. So tasty and a perfect gift and a great deal! Great customer service too, I 100% recommend!

Absolutely fantastic! Great value for money and so delicious. Such fast shipping too, thank you so much!!
Wonderful seller- so kind and helpful! Beautiful products, very tasty, and perfectly packaged too!❤️❤️❤️👏🏼. I highly recommend this sweet- in-every-way shop!👍🏻
ordered as a birthday present, was amazing to try everything inside love the packaging, well presented have most definitely found the best place to buy freeze dried sweets
Shipping from United Kingdom
Processing time
1-3 business days
Customs and import taxes
Buyers are responsible for any customs and import taxes that may apply. I'm not responsible for delays due to customs.
Returns & Exchanges
I gladly accept cancellations
Request a cancellation within: 24 hours of purchase
I don't accept returns or exchanges
But please contact me if you have any problems with your order.
Frequently Asked Questions
Gift wrapping and packaging
Gift wrapping and special requirements for packaging are available upon request. Your order will be wrapped carefully and thoughtfully with paper, string, and a handwritten note with words of your choosing.
Custom and personalized orders are available upon request. We are happy to help you with your specific order. Please, do contact us at least a week before.
If your package does not turn up within the expected timeframe.
If you didn't receive your parcel within the expected estimated delivery dates, please contact us and we will do our best to sort this situation!
Please, bare in mind, that we won't proceed with actions or that a parcel is 'lost' in the post until it has been a full 10 working days from the date of expected delivery (Royal Mail policy). Once this date is passed we will do whatever is better for you:
- re-deliver a new parcel with freshly made candy
- or a refund.
Who do you use to ship your parcels?
We use the Royal Mail, 2nd class postage.
cardboard parcel boxes with our logo on it
We pack all our candy orders with the utmost care but sometimes Delivery can be a little rough with our packages. While a few crumbs are natural during shipping if you ever feel your order has not arrived as it should please don't hesitate to reach out to us. But we promise the crumbs taste just as good as the rest. We recommend putting them on ice cream or just shake them straight into your mouth - YUM!
The parcel has been returned to our shop (the Royal Mail was unable to deliver it (missing address details, or incorrect address), the parcel wasn't picked up from the Post Office on time. What happens next?
If the parcel has been returned to our shop:
- the Royal Mail was unable to deliver it (missing house
number, incorrect address)
- the parcel wasn't picked up from the Post Office on time
How to sort it out? Whatever is better for you:
- we will give you a refund of your order
- or you may repay the postage costs and we will re-deliver
your parcel with freshly made sweets.
The tracking number says that the parcel was delivered, but I don't received it.
We will work together to find a way to resolve this situation. Please,
- firstly carefully double-check that the address is correct
- talk to your neighbours to make sure it wasn't delivered
to their house
- talk to your family members
- talk to your post person to check that it was delivered
If it has gone missing/stolen, please file a prompt police report. Keep us informed on how the process is going.
I need to place some updating with my order, How shall I do it?
Please contact us within one day of placing your order. We will be happy to assist you and we will do our best to sort an issue with your order. Anything past this date and we will be unable to help.
What size are Royal Mail parcel boxes we use and how it looks?
We will send your order in a cardboard parcel box with our logo on it. If you have a special requirement, please feel free to contact us.
What size are Royal Mail parcel boxes?
Royal Mail small parcels are up to 450mm x 350mm x 160mm in size with a maximum thickness of 160mm and a weight limit of 2Kg.
Royal Mail medium parcels are up to 610mm x 460mm x 460mm in size with a maximum thickness of 460mm and a weight limit of 20KG.
Royal Mail large parcels are classed as bigger than 610mm x 460mm x 460mm in size or weigh in at more than 20KG.